VIP Retreats
Enjoy the Temple Retreat in one of our VIP RETREATS
Imagine staying overnight or a week in the temple.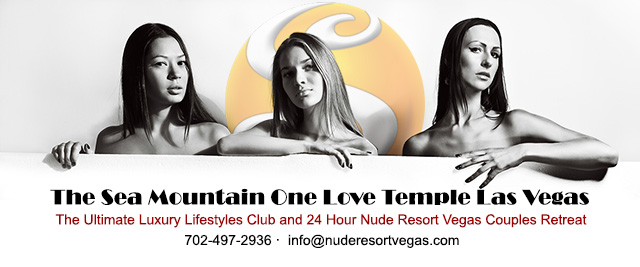 There is nothing as exceptional as staying at the One Love Temple of Sea Mountain just minutes from the Las Vegas strip.
A lifestyles experience.
Imagine 24 hour access to the most magical sensual clothing optional Temple in the USA.  Book your supreme meditation raucous retreat call 702-497-2936 for immediate service.
777 Ultimatum – 5 Stars from.
4-Point awarded accommodations.
Private entry to main pool or views of nude pool or nude spa.
King-sized bed – Four Seasons mattress.
Private mineral water deluxe VIP showers.
Asian décor awarded Buddha One world rights.
Private bathrooms with high end art and fixtures.
Designer bedding.
State of the art air and heat.
Sea Mountain Comfort Robes.
Plush Sea Mountain slippers.
Color flat-screen LCD TV.
DVD player.
Complimentary spa, pools entry and event entry.
In-room refrigerator and microwave.
Seating area.
Platinum complimentary Wifi.
24-hour club One Love Temple gardens access.

Your Private Retreat package price includes:
Sea Mountain One Love Breakfast daily.
Unlimited SMI beverages and lunch delivered daily.
Daily reception.
Dewey Wifi complimentary.
Complimentary VIP Parking.
Complimentary meditation Classes during stay if  classes are occurring.
24 hour access to VIP One Love Rejoice Dance Dharma club.
24 hour access to nude mineral waters pool and spa.
Las Vegas  ONLY 24 hour pool Mikvah (All other pools in the desert seem to close by 7PM and all winter heated hot, these are yours all night).
Feel the vibe of Jamaica or Cancun's Desire.
Complimentary DVD library.
Unlimited iced teas and coffee.
Full use of all VIP rooms and Spa Areas.
Meditate on your private day bed and cabana (Sea Mountain Cabanas available for donation from 10am to 3 am).
No worries about finding the private space.
Each cabana booking includes Wifi.
Rejoice in dance nights access.
Lunch for two.
Unlimited fruits'exclusive pool side amenities.
Temple cabana VIP packages will include at tandem couples massage (all massage is non sexual and temple members must be draped in accordance with all State and City requirements and laws). All massages performed by Sea Mountain Mobile Therapy a licensed independent contractor.
Request an overnight stay call 702-497-2936 for immediate service.
Share This